Newark Announces Proposed Designs For Harriet Tubman Monument Project
(NEWARK, NJ) — On April 29, 2021, Newark Mayor Ras J. Baraka announced that the…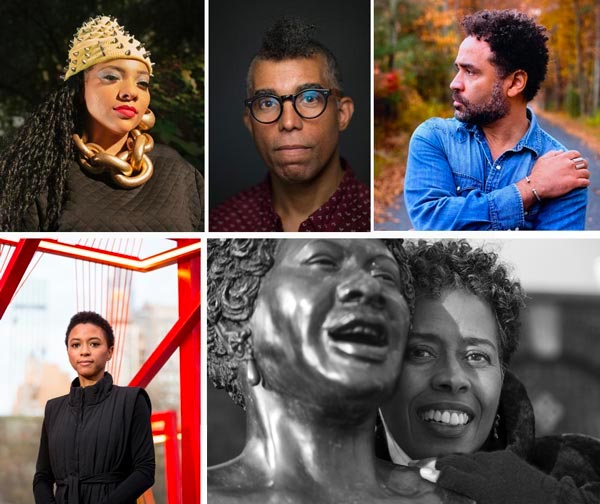 (NEWARK, NJ) — On April 29, 2021, Newark Mayor Ras J. Baraka announced that the City of Newark is calling on Newark residents to share their feedback on proposals submitted by the five finalists selected to design the new Harriet Tubman Monument. Five critically acclaimed artists: Abigail DeVille, Dread Scott, Jules Arthur, Nina Cooke John, and Vinnie Bagwell, were chosen by a jury to submit their designs.
"We are now choosing from five brilliant monument designs to determine which one will honor Harriet Tubman and the Underground Railroad in our city," Mayor Baraka said. "We want Newark residents to become involved in this process and tell us which designs they like best. This monument will reflect how Newark honors one of our great pioneers and warriors, and therefore it should in turn reflect the views of our residents."
The winner will be selected by a diverse 14-member jury of art experts, historians, and community stakeholders led by the City of Newark's Arts and Cultural Affairs Director fayemi shakur. The jury members' names and bios can be found at the bottom of this article. The jury will choose the winner in June and take community feedback into consideration. Additionally, the winning artist will be paired with a Newark-based artist to work with as an apprentice, assisting with research and community engagement on the project.
The five proposals provide a broad range of ideas and aesthetic forms. Newark residents can view the design renderings and individual videos by each artist explaining their designs here. 
Feedback must be provided by May 24 to be considered by the selection committee. Additionally, Newark residents who would like their family names or organizations to be a part of the historic project can make a donation and have their names included in the design process. To donate click here.
The City intends to rename Washington Park to Tubman Square in 2022 when the new monument will be installed, replacing the statue of Christopher Columbus that was removed in June 2020.
The title of the designs are as follows:    
  *  Abigail DeVille: "Harriet's Bridge"

  *   Dread Scott: "Keep Going"

  *   Jules Arthur: "Freedom Train"

  *   Nina Cooke John: "Shadow of a Face"

  *   Vinnie Bagwell: "Harriet Tubman on the Road to Freedom"
"I am overwhelmed by the powerful designs put forth by this group of esteemed artists," said fayemi shakur. "This is a valuable opportunity for the Newark community to engage with the city's history and embrace the possibilities of what public art can do when considering ideas like representation, history and design. It will also be a great learning opportunity for the Newark-based apprentice who is selected."
---
Artist bios:

  *   Abigail DeVille  was born in 1981 in New York City. Maintaining a long-standing interest in marginalized people and places, she creates site-specific immersive installations and large sculptures designed to bring attention to these forgotten stories. Her most recent exhibition was "Light of Freedom," Madison Square Park Conservancy (2020).
  *   Dread Scott is a visual artist whose work has been exhibited at the Whitney Museum and Museum of Modern Art's PS1 facility. In 2019, 350 people marched on levees on the outskirts of New Orleans as part of his community-engaged artwork Slave Rebellion Reenactment (2019), which reenacted the largest rebellion of enslaved people in US history. He is also the recipient of a 2021 Guggenheim Fellowship Award.
  *   Jules Arthur was born in St. Louis, and moved to New York City to attend The School of Visual Arts where he received a B.F.A. with honors in 1999. He creates visual testimonies to the lives and legacies of those who have had a significant cultural impact. His work features a range of distinguished figures-athletes, activists, abolitionists, musicians, tradesmen, and blue-collar workers-each one of them illuminated through his detailed artistry.
  *   Nina Cooke John is the founding principal of Studio Cooke John Architecture and Design, a multidisciplinary design studio that values placemaking as a way to transform relationships between people and the built environment. Working at the scale of the human body; individually or collectively, in the home or on the street, responding to how we use space in our everyday lives, whether in the family unit or as a community.
  *   Vinnie Bagwell is an American representational-figurative sculptor who uses bas-relief techniques as visual narratives to expend her storytelling, giving deeper meaning to the legacies of marginalized people of color. She created the first sculpture of a contemporary African-American woman to be commissioned by a municipality in 1996 and has won numerous public-art commissions and awards around the United States.
PHOTO: Five artist finalists (clockwise from top left: Abigail Dawn DeVille, Dread Scott, Jules Arthur, Vinnie Bagwell, Nina Cooke John)
---
HARRIET TUBMAN MONUMENT PROJECT SELECTION COMMITTEE
James Amemasor, PhD, is a Research Specialist at the New Jersey Historical Society (NJHS), where he utilizes the Society's collections and public databases to provide assistance to researchers on a range of topics. His pilot study for the NJHS-sponsored initiative "History, Memory and Acknowledgment: The African Diaspora in New Jersey" has laid the essential groundwork for future research, by discovering and documenting unknown and overlooked materials in the NJHS archives relating to people of African descent in New Jersey from colonial times to the present. Alongside his work at NJHS, Amemasor teaches courses in International Relations at Rutgers-Newark and Seton Hall University School of Diplomacy. Prior to his graduate studies, he worked at the Cape Coast Castle Museum in Ghana, a key site to understanding the Trans-Atlantic slave trade, where he coordinated educational activities for multinational visitors visiting the castle-dungeons. He was featured in Traces of the Trade: A Story from the Deep North—a documentary film retracing the role of the DeWolf family of New England in the Trans-Atlantic Slave Trade (initial release in 2008)—and Insurance: Putting Newark on the Map (2016), a documentary film celebrating Newark's 350th anniversary. Amemasor is the coeditor of newarkpoems, a web project dedicated to the 350th anniversary of the founding of Newark.
Joslyn Bowling Dixon is Director of The Newark Public Library. Bowling Dixon is a distinguished librarian with more than 20 years of experience working in large urban public libraries. Previously she served as the deputy director of the Prince William Public Library System in Virginia and the chair of the Virginia Library Association's Librarians of Color Forum and as VLA's vice president.
Dr. Linda Caldwell Epps has more than 40 years of experience working with educational and cultural institutions, including the New Jersey Historical Society, a statewide museum, library, and educational facility, where she served as President and CEO, and New Jersey Network Television and Radio where she served as Vice President for Institutional Relations. She held various positions at Bloomfield College, including Vice President for College Relations, Vice President for Student Affairs, and Dean of Students. Linda has earned the Most Distinguished Alumnae Award from Seton Hall University and induction into the Douglass Society, the highest honor accorded to Douglass College graduates. She has also served as a Ford Foundation-funded consultant to several institutions of higher learning. Linda holds a Bachelor's Degree from Rutgers University's Douglass

College, a Master's Degree in American Studies from Seton Hall University, and a Ph.D. from Drew

University.
Paul M. Farber, PhD is a curator, historian, and educator from Philadelphia. He is Artistic Director and Co-Founder of Monument Lab and Senior Research Scholar at the Center for Public Art and Space at the University of Pennsylvania Stuart Weitzman School of Design. As a curator, Farber works with artists and their families in order to together engage, revisit, and re imagine their archives. In doing so, he also brings multi-generational students into the fields of public art and history. In addition to curating Monument Lab's City Hall exhibition (2015) and citywide exhibition (2017), he is a co-curator with Salamishah Tillet of Monument Lab's A Call to Peace exhibition in Newark (2019). With Monument Lab, he directs research residencies with the High Line and Pulitzer Arts Foundation, convenes a national fellows program, and hosts its podcast featuring artists, scholars, activists, and designers shaping the next generation of public art.
Keith Hamilton serves as Senior Property Manager for the CIty of Newark's Department of Economic and Housing Development. From 2014-2019 Mr. Hamilton also oversaw the City of Newark's neighborhood mural program.
Linda Harrison is Director and CEO of the Newark Museum of Art. As the leader of The Newark Museum of Art, a large, complex, urban museum campus, Linda plays a strategic and unifying role for the organization and the city of Newark. She communicates the work and mission of the organization and works with the Board, staff, and community to identify and implement priorities and tactics to further the Museum's goals. During her first 100 days, Linda developed a 3-year Strategic Vision Plan to transform the museum, adding a sense of urgency and a bold vision. Her plan expanded the notion of a logo upgrade into a major brand transformation, involving a re-engineering of the mission, brand image, and adding the clarifying words 'of Art' to the museum's name. Linda has established a new Senior Leadership Team and revamped the organization for more engaging community impact. The new Vision incorporates five critical paths to be worked on simultaneously; Improving Financial Stability, Investing in Digital Future, Developing Right Infrastructure, Leveraging and Enhancing the Brand, and Investing in Right Programming. Linda is a board member of the Regional Plan Association, NJArtPride, and serves on the American Alliance of Museums, National Program Committee and the American Association of Museum Directors.
Rebecca Jampol is a curator and designer dedicated to cultivating impactful social dialogue and change through her interdisciplinary creative praxis. Her predominant interest is in fostering discourse through a variety of projects ranging from gallery work and publishing to public art programs. After graduating from Rutgers University-Newark in 2008, Ms. Jampol took a leading role in furthering the development of the city's burgeoning arts scene. She moved forward to become the driving force in a myriad of cultural and educational initiatives including: Jajo Art Gallery; Glocally Newark; The 239 Collective (2010); Rutgers Future Scholars "I am" Program (2010); Solo(s) Project House (2010), The NeWWalls Newark Public Art Conference (2014), The Gateway Project Public Art Initiative (2014), Portals, Newark, (2016), The Newark Downtown District's Entryway Program "Gateways to Newark" (2016) and more recently The Four Corners Public Arts Project (2019). Ms. Jampol is also currently a lecturer and professor of design at Rutgers University – Newark.
Jeremy Johnson is a connector, collaborator, fundraiser, and grantmaker. He drives issues and policies to spur Newark's resurgence as a City of the Arts and a City of Learning. Since 2016, Jeremy has been Executive Director of Newark Arts, a nonprofit collaborative which aims to "power the arts to transform the lives of those who live in, work in, and visit Newark." During his tenure the organization has doubled in budget and tripled in staff. He won a seminal $1 million award from Prudential to strengthen Newark Arts' capacity and to launch a citywide cultural plan. Jeremy led Newark Arts to increase the city's cultural profile, including the 2019 ranking of Newark among America's Top 10 Arts-Vibrant Communities by the National Center for Arts Research.
Gera Lozano is a conceptual artist based out of Brooklyn, New York. Using photo, video performance, artist books, and public art in her practice of conscious work, Lozano's practice intentionally beautifies and brings to light both sacred patterns, and the patterns woven into our social fabric. Her art work has been funded by the NEA, Creative Work Fund, and the Zellerbach Foundation. Both her studio and public art work carry the spirit of cultures and dreams. GERALUZ, as she is also known in the street art world, project designs of living cultures that reflect the energetic fields optical of perception.
Damon Rich is a designer, artist, and partner at HECTOR, where recent projects include designing neighborhood parks, writing citywide land use regulations, and creating a memorial for eco-feminist Newarker Sister Carol Johnston. Damon's work has been exhibited and permanently installed at venues including the Museum of Modern Art, Canadian Centre for Architecture, Queens Museum, Yerba Buena Center for the Arts, and the Netherlands Architecture Institute. His work has been recognized by the Cooper Hewitt National Design Award, American Planning Association National Planning Award, and MacDowell, MacArthur and Loeb Fellowships. Damon previously served as planning director for the City of Newark under Mayors Booker, Quintana, and Baraka, and is the founder of the Center for Urban Pedagogy (CUP), an internationally recognized nonprofit organization that uses art and design to increase meaningful civic engagement.
fayemi shakur serves as Arts and Cultural Affairs Director for the City of Newark. Since joining the Honorable Mayor Ras J. Baraka's administration in January 2020, Ms. shakur has developed the City of Newark's Creative Catalyst Fund, providing funding support to individual artists and small to midsize arts organizations. She oversees the city's public art program, and creates opportunities for neighborhood revitalization and arts-based community engagement. She also serves as board chair of Newark Symphony Hall, New Jersey's largest and oldest Black-led arts and historic entertainment venue. As a writer and cultural critic, her work has been featured in The New York Times, CNN Style, and MFON: Women Photographers in the African Diaspora among other books and publications. In 2019, she founded A Womb of Violet, a project-based collective that celebrates the work of Black feminist writers, poets and artists. With over 15 years of experience in arts administration, her career emphasizes collaboration, cultural organizing, and community engagement as essential and meaningful experiences that challenge the way we see the world, ourselves and each other.
Dr. Salamishah Tillet is The Henry Rutgers Professor of African American and African Studies and Creative Writing, Associate Director of the Clement Price Institute at Rutgers University – Newark, Founding Faculty Director of the New Arts Justice Initiative at Express Newark and Co Founder of A Long Walk Home. She is a much sought-after commenter on the politics of artistic expression and a leading thinker on the relationship between art and social justice. In 2003, she co-founded A Long Walk Home, a Chicago-based national non-profit that uses art to educate, inspire, and mobilize young people to end violence against girls and women. Her book Sites of Slavery: Citizenship and Racial Democracy in the Post-Civil Rights Imagination (Duke University Press, 2012) examines how contemporary African American artists, writers, and intellectuals remember antebellum slavery within post-Civil Rights America in order to challenge the ongoing exclusion of African Americans from America's civic myths and to model a racially democratic future. She is currently working on a book on the civil rights icon Nina Simone, and a regular contributor to the New York Times.
Jasmine Wahi is a Curator, Activist, Founder and Co-Director of Project for Empty Space. Her practice predominantly focuses on issues of femme empowerment, complicating binary structures within social discourses, and exploring multi-positional cultural identities through the lens of intersectional feminism. She received her Masters from New York University's Institute of Fine Arts, where she focused on issues of intersectional narratives and authorship. In addition to running Project for Empty Space. Additionally, Ms. Wahi is the Holly Block Social Justice Curator at the Bronx Museum of Art in New York City. She is a faculty member at the School of Visual Arts, and a former board member of the South Asian Women's Creative Collective (SAWCC).
Noelle Lorraine Williams is a Newark-based artist, scholar, and organizer. She served several years as a volunteer and committee chair for Newark Gay Pride including organizing programming, outreach and volunteer coordination. She co-curated the first Newark LGBT and straight exhibition in 2006 at the Liberation in Truth Gallery (Newark LGBTQ Center) entitled To (Not) Be Seen as well as other exhibitions around gender, sexuality, and race. Her work has been highlighted in New York City Gay Pride Guide as a "Young Activists to Watch Out For," Go NYC magazines "100 Women We Love". Her work as a visual artist has been mentioned and critiqued in the New York Times, Art News, and other publications. She has exhibited in New York, New Jersey, Philadelphia, and Louisiana.
Layqa Nuna Yawar is a public artist and multidisciplinary storyteller living and working in Newark, NJ. He makes paintings, installations, workshops, and socially engaged public art projects centering the voices and narratives of people of color in pursuit of social justice and shared liberation. His artwork aims to disrupt established semiotic systems and reimagine them in service of a better and brighter future. Layqa's process is informed by his experience growing up in Ecuador and migrating to the U.S.A. as a teenager. His work exists at the intersection between migrant alienation and belonging, between cross-cultural identity and decolonization, and between the private and the public. His work was awarded the 2019 Moving Walls Fellowship by Open Society Foundations as well as multiple teaching residencies, including projects with the United Nations World Food Programme. He has exhibited at El Museo del Barrio, the Newark Museum, and The Zimmerli Art Museum, among others. His murals can be found in cities and communities around the world. 
originally published: 04/29/2021
---
---
---
---
---